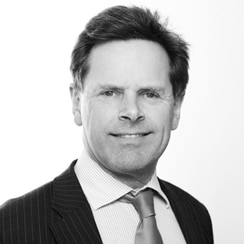 Specialisms
Big Money Assets
Child Maintenance
Children Financial Disputes
Civil Partnership
Family or Small Business
Farming Cases
Finances and Foreign Divorce
Middle Range Assets
Modest Assets
Offshore Assets
Offshore Trusts
Trusts
UK Pensions
Gavin Smith
Gavin is a family law barrister at 1 Hare Court in London with over 30 years' experience. He specialises in all types of financial remedy proceedings following relationship breakdown, and now focusses full-time on his well-established practice as an arbitrator and private FDR evaluator.
According to Chambers & Partners 2024 "Gavin Smith attracts praise for the extent of his experience in ADR. He concentrates his practice on private FDRs and arbitrations involving properties, pensions and family loans. Strengths "He will proactively help you case manage collectively rather than making one party feel pitted against the other. Someone who makes the process accessible and always seeks to assist, he's very good at getting involved from day one, putting forward suggestions to make the most of the time available. When it's all finished he takes the time to speak with clients and explain his indication to them at a personal level – clients come away from an arbitration with him feeling that whatever happens they've had the best chance possible to have a sensible outcome. He's very attuned to how emotional these proceedings can be and he'll do his best to put everyone at ease." "Because he's experienced at running arbitrations, he's got more of a relaxed approach which goes down well. He does an awful lot of preparation beforehand and comes up with his own ideas and solutions, which is good when you're dealing with polarised parties." "An extremely detailed, thorough and experienced ADR practitioner.""
In DB v DLJ [2016] EWHC 324 (Fam) Mr Justice Mostyn praised Gavin's award as "a thorough, conscientious and clear piece of work. Its quality is a testament to the merit of opting for arbitration."
Gavin qualified as a family arbitrator at the outset of the IFLA scheme in 2012. His arbitrations range from full final hearings, at which the parties are represented by advocates, to adjudications made on the basis of written evidence and submissions alone.  He is available to undertake arbitrations of all kinds, from 'single issue' disputes to those involving the full range of financial remedy claims, and from high value cases to ones where the parties' resources are modest.
He is also an experienced private FDR evaluator, assisting couples on separation by giving them an assessment of the likely outcome in their case, and thus providing them with a basis for a negotiated settlement.
Gavin was appointed a Deputy (part-time) District Judge in March 2019, assigned to the Midland Circuit. He is authorised to sit in the Financial Remedies Court and is 'ticketed' to hear complex cases.  He keeps up to date with legal change by co-editing the financial practitioners' 'bibles', At A Glance and At A Glance Cloud, and co-authoring Financial Remedies Practice. He has an excellent working knowledge of French and some German.
Gavin is married with four children and lives in North London. He has an MA from Oxford.
Details of his availability and fees may be obtained from his clerk Ryan Titmarsh at ryan@1hc.com.
Qualifications
Barrister, Collaborative Lawyer, England and Wales, Mediator, Part-time Judge
Regions
Channel Islands, East Midlands, East of England, Isle of Man, London, North East, North West, Northern Ireland, Scotland, South East, South West, Wales, West Midlands, Yorkshire and The Humber