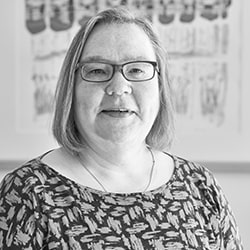 Specialisms
Gillian Bishop
Gillian is a director of Family Law in Partnership Ltd. She is a founding member of the firm, setting it up in 1995 to provide a distinctive client focused family law service. As an experienced family lawyer, Gillian wanted to create a firm for clients looking for a holistic approach to their divorce. Children arbitration is entirely in keeping with this approach.
Trained as a mediator and a collaborative lawyer Gillian is committed to seeking solutions outside the court arena. The values that Gillian applies to her work as a solicitor and mediator apply equally to her work as a children arbitrator.
In the 2016 Chambers directory Gillian was described as speaking "with years of experience and vast wisdom." She is "always trying to provide solutions that are best for the family concerned".
Qualifications
Collaborative Lawyer, Mediator, Solicitor
Regions
East Midlands, East of England, London, North East, North West, South East, South West, Wales, West Midlands, Yorkshire and The Humber