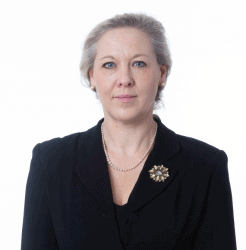 Specialisms
Louise Potter
Louise has been a financial remedy specialist throughout her career, and has in recent years developed a sound reputation for excellence in cases where there are complex business and pension issues. Louise's financial practice is broad, which means she takes a constructive and pragmatic approach in cases where there are more limited finances, as well as possessing confident facility with greater asset bases.  As would be expected with Louise's level of seniority, she has experience with every type of asset, earning model, financial vehicle/ investment, taxation and also trust and 3rd party issues.
Louise's arbitration qualification dates from 2018, and she is a strong proponent of the value of early intervention and resolution as tending to promote a reduction in the strain and cost of extended contested proceedings, and of the particular benefits of arbitration providing the parties with a stronger sense of ownership of the process.  Louise is a member of Harcourt Chambers' team of specialist arbitrators.
A member of the Family Law Bar Association and of the Chartered Institute of Arbitrators, Louise has also been a long term contributing editor to Butterworths Family Law Service, providing text in respect of all aspects of financial provision for children and in international enforcement.  Louise has received positive professional endorsements in Legal 500/ Chambers UK Bar directories since 2016.  Louise is also an experienced Board chair in the not-for-profit and education sectors.
Based in Oxfordshire, Louise will undertake arbitrations nationwide, and on remote platforms.
Qualifications
Barrister
Regions
East Midlands, East of England, Isle of Man, London, North East, North West, Northern Ireland, Scotland, South East, South West, Wales, West Midlands, Yorkshire and The Humber