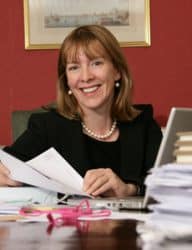 Specialisms
Children Financial Disputes
Cohabitation Claims
Family or Small Business
Inheritance Act Claims
Middle Range Assets
UK Pensions
Margaret Styles
Margaret was called to the Bar in 2000 after a fast-track civil service career in policy and management roles.
Margaret has been a firm believer in alternative dispute resolution processes since qualifying as a mediator in 2004, and was in the vanguard of those undertaking the arbitration qualification via IFLA. As a complement to her advocacy practice, she is a seasoned ADR practitioner assisting parties with their disputes over family money, generally at medium level asset values, and in TOLATA disputes and inheritance claims. Margaret views the her advocacy and ADR skills as wholly complementary, with the needs and interests of litigation participants to have clear, prompt and fair outcomes a priority for financial and personal best outcomes. Margaret is a member of Harcourt Chambers' team of specialist arbitrators.
Margaret is a FLBA member and a seasoned lecturer for practitioners.
Based in Gloucestershire, Margaret will undertake arbitrations throughout the South East, South West and West Midlands, and on remote platforms.
Qualifications
Barrister, Collaborative Lawyer, Mediator
Regions
East Midlands, London, South East, South West, West Midlands