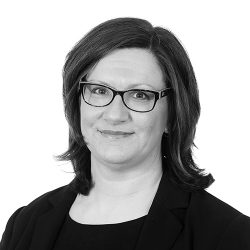 Specialisms
Big Money Assets
Children Financial Disputes
Civil Partnership
Family or Small Business
Farming Cases
Middle Range Assets
Mrs Emma Brunning
I am a partner and the head of the family team at the Chelmsford office of Birketts. I qualified as a solicitor in 1997 and I have practiced in Financial Remedy throughout my career. I am a named individual in Legal 500 and Chambers and Partners, recognised as "instilling confidence" and giving "sound advice … in my family's interests while remaining fair". I am a Resolution Accredited Specialist.
My experience includes both medium and complex financial matters. I have a great deal of experience in cases involving family businesses and property portfolios. I also advise on Schedule 1 applications.
As an Arbitrator, I will be approachable and practical with a focus on reaching a solution for the parties. Having assisted clients with family law problems for many years, I understand the emotional turmoil that comes with relationship breakdowns and dealing with important family decisions. Each situation is unique and I tailor my approach to suit the parties' individual circumstances.
I am married with a son. However, our house is presided over by a rather large Siberian Forest Cat!
Qualifications
Collaborative Lawyer
Regions
East of England, South East